One of the best things about living in Utah is the abundance of outdoor winter sports available. With 21 ski resorts throughout the state, along with hundreds of miles of trails, Utah is the ideal location for snowboarding and all types of skiing.
Unfortunately, ski and snowboard accidents have risen considerably over the last few years. Over the last decade, there have been an average of 40 fatalities nationwide due to skiing and snowboarding accidents each season. However, in 2020, that statistic began trending even higher.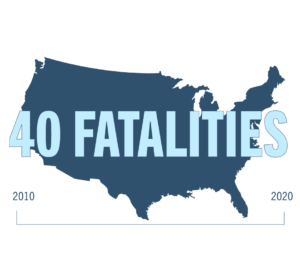 Of course, all outdoor enthusiasts must accept that there are inherent risks when skiing or snowboarding on the mountains. However, knowing what those risks are and how to avoid them can prevent unnecessary accidents. Make your ski season fun and safe by staying informed and participating in winter sports responsibly.
Common Causes of Ski Accidents
One of the best ways to stay safe while skiing or snowboarding is to understand the dangers involved. By knowing the most common causes of ski accidents, you can take necessary precautions and avoid risky behaviors.
Collisions with trees
According to the National Ski Areas Association (NSAA), collisions with trees and other objects caused the majority of skier and snowboarder deaths in 2021.
When skiers travel too quickly, especially in the backcountry, they risk collisions at high speeds. Crashing into trees can lead to head and neck injuries, broken bones, and snow immersion suffocation.
Snow immersion suffocation happens when a skier gets stuck under deep, loose snow or in a tree well. The skier may be unable to get themselves out and can suffocate.
Chairlift accidents
Utah has seen one ski lift accident fatality already in the 2022-2023 season. In general, chairlifts are usually quite safe. However, if a ski lift malfunctions or is used improperly, serious injuries can occur.
The NSAA began compiling chairlift fatality data in 1973. From that time until 2020, 30 people died on chairlifts in the United States, and more than 100 were injured.
Collisions with other skiers
The risk of colliding with another skier or snowboarder is always present. Men are more likely to collide with other recreationists than women, and skiers are at greater risk of injury than snowboarders, one study found.
Avalanches
Avalanches can be a serious danger to anyone on the mountains in the winter, especially those in the backcountry. An avalanche can trap a skier under the snow and disorient them, so they do not know which way is up.
The Utah Avalanche Center tracks avalanche fatalities for Utah and Southern Idaho. From 2011-2021, 29 people died in avalanches in the area.
Riding outside the designated ski area
It is also important to stay within the designated boundaries of the resort, especially for inexperienced skiers or snowboarders. Riding outside the limits of the ski area increases your risk of colliding with trees, becoming stuck in deep snow, or getting lost or stranded.
Common Ski Crash Injuries
Common ski injuries include:
Head injuries, including traumatic brain injuries
Spinal cord injuries
Internal organ damage
Broken bones
Sprains and strains
Muscle tears (particularly ACL injuries)
Bruises and lacerations
Frostbite
How to Stay Safe While Skiing and Snowboarding
By understanding the risks associated with your sport and taking precautions to avoid injury, you can ensure you're able to participate in winter sports for years to come. Take the following steps to keep yourself safe while skiing or snowboarding.
Ski with a friend
Skiing alone is risky, especially when skiing in less populated areas. If you crash, become stuck or stranded, or have a medical emergency, you may be unable to signal for help.
In the event of an accident, a ski partner can help you become unstuck, get down the mountain, or seek assistance.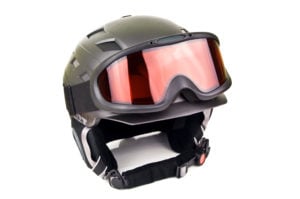 Wear proper ski equipment
Skiers and snowboarders should always make sure they have the following gear, and that it is in good working order:
Warm clothes: Avoid frostbite and hypothermia by wearing a coat, snow pants, gloves, and a hat. Ensure you have a warm base layer under your snow clothes.
Helmet: Helmets can prevent head injuries in the event of a collision or fall.
Goggles: Avoid snow blindness by wearing well-fitting goggles or sunglasses.
Functional bindings and boots: Ski bindings that do not work properly can cause your feet to become stuck, increasing the risk of knee and ankle injuries.
Communicate your plans
Before leaving for the day, tell someone where you plan to be and when you plan to be home. If something happens, your loved ones can alert ski patrol as soon as you miss your scheduled arrival time. This also ensures that rescue crews will look in the right places.
Be aware of your abilities
Many ski collisions happen when someone is attempting more advanced skiing than they are ready for. Ski so that you are able to stop should a hazard become present. Do not attempt ski slopes that are too advanced for your skill level.
Check conditions before you go
Always check the weather forecast and avalanche conditions before hitting the slopes. The Utah Avalanche Center posts backcountry avalanche closures on their site– do not ski or otherwise recreate in these areas.
Stay alert
Pay attention as you ski. Look out for other skiers, trees, and other objects on the slopes. Slow down when these hazards are present.
Skiers who injure others due to irresponsible or risky behavior may be found liable for the accident.
When to Contact a Ski Injury Lawyer
If you have been injured in a skiing accident due to a defective product or another person's negligence, consider contacting a personal injury lawyer. An experienced accident attorney can help you access medical care, build your injury case, and fight for a fair settlement to take care of your medical bills.
The Advocates have been helping accident victims in Utah for three decades. We will be by your side to listen to your story, negotiate with insurance companies, and provide regular updates on your case.
With an Advocate, you can rest assured knowing that our goal is the same as yours: to get you back to doing what you love. Contact us today for a free consultation.
You deserve an attorney who will fight to get you the recovery you need. You deserve an Advocate.