Our lawyers have decades of experience with ATV, Dirt Bike, and 4-Wheeler accidents.
The personal injury attorneys with The Advocates are ready to help you recover following your ATV accident. The Advocates know best how to help you win the best settlement for the injuries and losses you have suffered due to another's recklessness. For over 25 years, our attorneys have won over $300 million dollars to help our clients make the best recovery possible. Don't wait to contact The Advocates today for a free evaluation of your case.
When it comes to your health and the financial security of your family, The Advocates are the only choice to help with your ATV injury claim. The attorneys with The Advocates have the legal skills and expertise needed to ensure your life returns to what it was before you were injured. Unlike other law firms, The Advocates understand the struggle you are going through and are prepared to help you from day one. With an Advocate on your side, you'll never have to worry about having to accept a settlement you know is too low. Our attorneys won't quit until you win just compensation for your injuries and losses. Your case deserves more than an ordinary lawyer. You deserve an Advocate!
Utah ATV Crash Attorney
An ATV accident can happen at a moment's notice. Without modern safety protections, such as seatbelts and airbags, serious injuries are common for ATV enthusiasts. In fact, such accidents are so dangerous that up to 7 people die every year in Utah from recreational vehicle collisions. If you or someone you love has been hurt in an ATV crash, you may be entitled to legal compensation for the injuries you've suffered due to the negligence of another person.
Here are just a few of the most common reasons given for recreational accidents:
Reckless Operation
Driving at High Speeds
Distracted Driving
Inexperienced Drivers
Drug or Alcohol use
Driving during Rain, Sleet or Snow
$2.5 Million
Head-on Car Crash
$1.3 Million
Side Impact Auto Accident
$1.0 Million
Side Impact Car Crash
$1.1 Million
Semi-Truck Auto Accident
$1.2 Million
Multiple Vehicle Collision
When you hire an Advocate to represent your legal interests, you'll never be charged consultation costs or hidden fees. The Advocates take pride in helping our clients on a contingency basis. This means that we don't get paid unless you do. If our experienced attorneys and professional staff are unable to settle your injury claim for a satisfying amount then you won't owe our firm a single dollar in attorney fees. That's our promise to you and your family.
More than any other law firm, The Advocates truly care about you and your family. The injury attorneys with The Advocates will fight to win you the best possible settlement based on your particular situation. When you hire The Advocates as your legal representation, we'll treat your case as if it belonged to a member of our family. From start to finish, we'll give your case our full attention. Don't wait to find out what The Advocates can do for you. Contact our office today for a free legal consultation. You deserve an Advocate!
If you've been injured in an ATV accident, you will need the help of a skilled attorney in order to obtain just compensation for your losses. The sad fact is that the insurance industry will do anything to avoid paying you a fair settlement for your ATV or 4-Wheeler accident. It is common practice for insurance providers to train their adjusters to deny your injury claim for most any reason. Without an attorney on your side, you risk walking away from your accident with empty pockets. Indeed, internal studies conducted by insurance companies have found that injury claims with proper legal representation often settle for amounts 5X higher than those of victims who tried to settle on their own. Don't let the insurance companies cheat you out of the settlement you deserve. Hire The Advocates today and make them pay you fair compensation for your accident.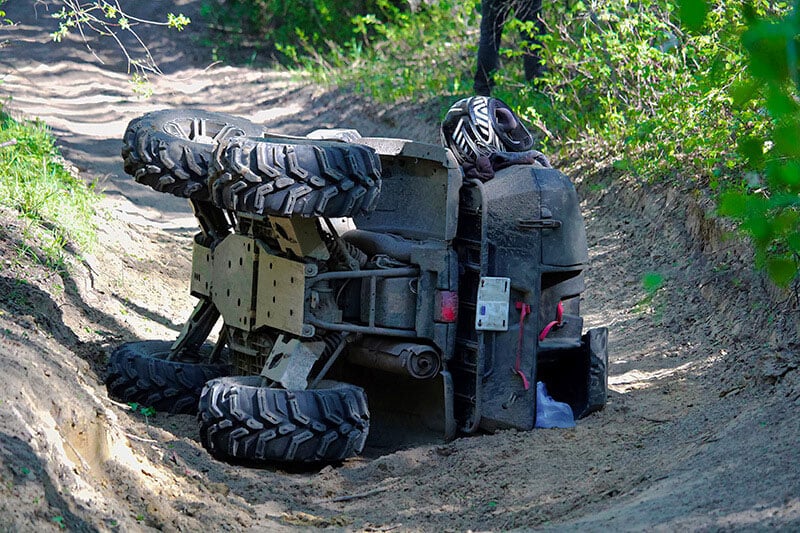 How can The Advocates help after an ATV accident?
If you are in need of legal assistance after your ATV accident, don't hesitate to call The Advocates today to discuss your options. We'll explain the ins and outs of your potential injury claim and advise you about what your next steps should be. You deserve an Advocate!
Open Communication with your Advocate Attorney
We've Recovered Over $300 Million for Our Clients
The Advocates Don't Get Paid Unless You Do
Spanish-speaking Attorneys Available to Take Your Call
"Hiring The Advocates was the best move I could have made after my accident. They were very professional and made me feel confident my case would go smoothly. They really put me at ease. I would recommend them to anyone!" - Robert S.
Why Your Case Needs an ATV Accident Lawyer
For nearly 30 years, The Advocates have helped clients from all across Montana win the maximum compensation for the injuries they've suffered due to the recklessness of others. Our attorneys have earned a reputation of being both expert negotiators and, when push comes to shove, fierce litigators. The Advocates take pride in never shying away from taking cases before a judge and jury in order to help make their clients' lives whole again. No need to settle for a regular, run-of-the-mill lawyer. Hire an Advocate attorney and win the best possible settlement for your ATV injury claim. Don't wait to contact The Advocates today for a free legal consultation about your case. You can either call our office directly or speak with a live attorney right this minute through the chat function at the bottom of your screen. Don't wait! You deserve an Advocate!
The Advocates Accident Claim Process
Step 1: Investigate the Accident
The first steps The Advocates will take is to investigate your accident. Our attorneys do this by obtaining a police report about your accident, examining any photos or videos of the crash scene, and speaking to any relevant witnesses. Once we have established liability, we will begin to build your injury claim.
Step 2: Build Your Claim
Building your car accident injury claim is one of the most time-consuming steps in the entire process. Our staff must wait until you are finished treatment for your injuries before we can compile a comprehensive medical record of the injuries you have suffered from your accident. This is a timely process so be patient.
Step 3: Negotiate a Settlement
Once you are finished treating your injuries and your medical records have been gathered, your attorney will send out a demand package to the at-fault party's insurance. Afterwards, negotiations with your attorney will begin. If we are unable to negotiate a fair offer, then you will have the option to file a lawsuit.
Step 4: Litigate If Necessary
Time wise, litigation is the longest step in the claim process, possibly extending the life of your claim one or, even, two years. If you do decide to file a lawsuit, be prepared to potentially appear before a judge and jury.