A Rideshare Accident Attorney Can Help Your Case
Every day, thousands of people travel using rideshare services like Uber and Lyft. This is especially true in areas like Salt Lake City and the surrounding valley. Generally speaking, rideshare vehicles are a safe way to get around, especially when they serve to prevent intoxicated driving.
Unfortunately, as with any other type of motor vehicle, Ubers and Lyfts are not immune to accidents. And like any car crash, rideshare accidents can result in physical injuries, emotional anguish, and financial damages.
The personal injury attorneys with The Advocates can help. We have been serving Utah accident victims for more than 30 years, so we understand the challenges you are facing. 
If you were injured by a negligent driver, you deserve an attorney who will put you and your needs first. Contact The Advocates today for a free consultation. We will discuss your injury claim and help you understand your legal options at no charge to you.
$2.5 Million
Head-on Car Crash
$1.3 Million
Side Impact Auto Accident
$1.0 Million
Side Impact Car Crash
$1.1 Million
Semi-Truck Auto Accident
$1.2 Million
Multiple Vehicle Collision
You will pay nothing out-of-pocket when you hire an Advocate. Your initial consultation with us is always 100% free. There are never any upfront costs or hidden fees. Our attorneys work on a contingency basis, which means that our attorney fees are calculated as a percentage of your settlement. We don't get paid unless we win your case and you receive a settlement. For more information on how settlements and payment work, please see our contingency fee information page.
Not every accident requires an attorney. However, if the accident resulted in injuries or significant property damage, it is a good idea to contact a lawyer. An experienced personal injury attorney can help you navigate the claims process, which can be lengthy and complex. Your attorney will build your case, keep track of your medical records, negotiate with insurance companies, and represent you in court if necessary. Studies have shown that accident victims who hire a personal injury lawyer can receive settlements up to 3.5 times larger than if they settled on their own.
The best way to know if you have a case is to speak with an attorney. The Advocates offer free consultations—you can speak with a qualified legal team to understand what your case is worth without paying a dime. Once you have decided to hire an Advocate, we will investigate your accident to firmly establish liability.
A Team of Legal Professionals Assigned to Your Case
For 30 years, the personal injury lawyers with The Advocates have helped accident victims in their recovery. We can help you:
Understand the claims process
Investigate your accident
Build your case
Negotiate with insurance adjusters
We only get paid if we win your case!
When Should I Hire a Utah Rideshare Accident Attorney?
No matter who is liable for your accident—whether it is the at-fault driver's personal insurance or Lyft/Uber's insurance company—it will likely not be easy to get the settlement you deserve. Insurance providers are notorious for trying to avoid offering fair compensation for damages.
The Utah Advocates are here for you. We will listen to your story, help determine your individual needs, and be by your side every step of the way through the claims process. We are available 24/7 for questions or concerns.
Your Advocate will build your case, negotiate with insurance providers, and take your case to court if necessary. We will do everything in our power to get you the recovery you deserve.
Contact The Advocates law firm today for a free case evaluation. You deserve an auto accident attorney who will put you and your loved ones first. You deserve an Advocate.
The Advocates Rideshare Accident Claim Process
Investigate the Accident
The first step The Advocates will take is investigating your accident. Our attorneys do this by obtaining a police report about your accident, examining any photos or videos of the crash scene, and speaking to any relevant witnesses. Once we have established liability, we will begin to build your injury claim.
Build Your Claim
Building your rideshare accident injury claim is one of the most time-consuming steps in the entire process. Our staff must wait until you have finished treatment for your injuries before we can compile a comprehensive medical record of the injuries you have suffered from your accident.
Negotiate a Settlement
Once you have finished receiving medical care and your records have been gathered, your attorney will send out a demand package to the at-fault party's insurance. Afterwards, negotiations with your attorney will begin. If the other party refuses to make a fair offer, you have the option to file a suit.
Litigate If Necessary
Time-wise, litigation is the longest step in the claim process, possibly extending the life of your claim one or two years. If you do decide to file a lawsuit, be prepared to potentially appear before a judge and jury.
Rideshare Accident Statistics
Where are rideshare accidents most likely to occur?
Metropolitan areas have the highest number of

rideshare vehicles

and see the largest number of accidents involving

rideshare services

.

Rush hour, evenings, and weekends are the busiest times for

rideshare drivers

.

Bars, clubs, and transportation hubs (such as airports or train stations) are hotspots for rideshare requests.
Common causes of rideshare accidents
Distracted driving: Distracted driving is one of the leading causes of all

car accidents

. Because

Uber

and

Lyft drivers

must use their phones to navigate and accept ride requests, they may be more likely to become distracted while driving.

Fatigue:

Uber

and

Lyft drivers

are paid based on the number of rides they complete and the distance they travel. They may feel pressured to work long hours, causing them to become tired.

Aggressive driving: Road rage is a massive problem on US roads.

Speeding: Speeding is a major cause of accidents. Additionally, accidents with speeding as a factor are more likely to lead to serious injuries or death.

Impaired driving:

Car accidents

are far more likely to happen when one or more

motorists

is under the influence.
Common rideshare accident injuries
Car accidents can lead to minor injuries, like scrapes and bruises, as well as life-altering harm, such as head and spinal cord injuries. Some of the most common auto accident injuries include:
Traumatic brain injuries (TBIs)

Neck and back injuries

Internal organ damage

Broken bones

Whiplash

Muscle strains and sprains

Lacerations and bruising
Rideshare Accident FAQs
What is required to become a rideshare driver in Utah?
Whether a rideshare driver is working in Ogden, Salt Lake City, or St. George will determine the exact requirements they must meet in order to work for a rideshare company. Below are the general requirements for Utah rideshare drivers:
At least 25 years old

Possession of a valid

Utah

license

Ability to pass a background check

Proof of personal auto

insurance coverage

and

Utah

registration

Smartphone that can run the

rideshare app
What kinds of cars can be used as rideshare vehicles?
Because rideshare drivers are considered independent contractors, they often use their own vehicles for transporting passengers. Many makes and models of cars can be rideshare vehicles, but in Utah, they must meet these minimum requirements:
15 years old or newer

4 doors

5-8 seats, including the driver's

Good condition with no cosmetic damage

No commercial branding
Exact requirements differ between rideshare platforms and cities. Prospective drivers should check the website of the rideshare service they desire to drive with to find the requirements that pertain to them.
Are rideshare drivers covered by insurance?
The short answer here is yes. Things can quickly become complicated though. How much coverage applies to your accident will depend on who was liable, the severity of your injuries, and whether the rideshare driver was working at the time of the crash.
If the driver of another vehicle (not the rideshare driver) was responsible for your accident, that driver's insurance policy will apply.
If the Lyft/Uber driver was at fault, either the driver's or the rideshare company's liability insurance (or both) should cover your damages. Who is liable depends on the circumstances surrounding your accident.
The rideshare app was offline at the time of the accident:
The at-fault party's personal insurance policy should cover your damages.
The crash happened when the rideshare app was on and the driver was available to accept a request:
Both Uber and Lyft provide the following coverage in the state of Utah:
$50,000/person for bodily injury

$100,000/accident for bodily injury

$25,000/accident for

property damage
These insurance policies only apply to third-party damages and only take effect when the at-fault driver's insurance policy does not apply.
The rideshare app was on and the driver was en route to fulfill a request at the time of the accident:
In this instance, both rideshare companies maintain the following insurance policies:
$1,000,000 in third-party liability coverage

Some first-party coverage, depending on the company
Regardless of who was at-fault in your accident, their insurance company isn't likely to make it easy for you to receive maximum compensation for your damages. A Utah Uber/Lyft accident attorney can help you fight for the settlement you deserve.
What should I do after a rideshare accident?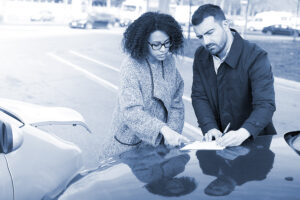 After any type of accident, it is important to take the following steps in order to protect yourself and your right to a claim:
Move

out of traffic if possible

Check for injuries and seek

medical attention

for serious injuries

File a

police report

Exchange contact and insurance information with all drivers involved in the accident

Exchange contact information from witnesses

Take pictures and videos of the scene

Report the accident to your own

insurance company

Seek

medical care

, even if you do not believe you were injured

Consider contacting a

Utah rideshare accident lawyer

with The Advocates
What damages can I seek after my rideshare accident?
Every personal injury case is different. There is no one-size-fits-all answer to this question.
Some common damages sought in rideshare accident cases include:
Medical expenses

Lost wages

Loss of future earnings

Pain and suffering

Funeral and burial expenses
A Utah Uber accident lawyer can help you understand which damages you may be able to include in your accident claim.