The Advocates Scholarship

At The Advocates Law Firm, we are committed to continued learning throughout life, and we believe that through education we better ourselves and our communities. Understanding the financial burden higher education can bring to students and their families, we are offering our help to you through our Advocates Scholarship.
Scholarship Application:
Write 300-500 word essay on the following topic:
What are some of the daily problems bicyclists face on the roads? How aware are we of bicyclists and the laws associated with them? How can you contribute to improving awareness and road safety for bicyclists?
Scholarship Requirements:
All prospective or current students enrolled in an accredited university or college, located within the United States may submit an application.
Scholarship Amount:
$1000 is offered biannually
Scholarship Deadline
This scholarship is ongoing, and awards are available biannually
Fall Term: January 31st
Spring Term: June 30th
Scholarship Terms and Conditions:
By submitting your essay, you agree to our terms and conditions.
Only your email and phone number will be used to contact you concerning the scholarship. We will not provide this information to any 3rd party. Your name and the name of your school may be used if you are selected as a prizewinner, or if you are part of our honorable mentions.
If you do not fill out all necessary information, you will forfeit your consideration for this scholarship.
As previously mentioned, if you are selected as the prize winner, we will contact you through email or phone, and the award will be sent to your accredited institution.
If you are selected as the scholarship winner, we will contact you for a profile photo to be included with your scholarship on our scholarship page.
IMPORTANT: It may take several weeks after the deadline for us to read all entries and select a winner. In the meantime, please do not call or use the live chat function to inquire about your entry. These lines of contact go directly to attorneys and are for injury case inquiries only.If you are selected as a winner, The Advocates will contact you via phone or email and the money will be sent directly to your institution.
Meet Our Summer 2023 Scholarship Winner – Erin Clifford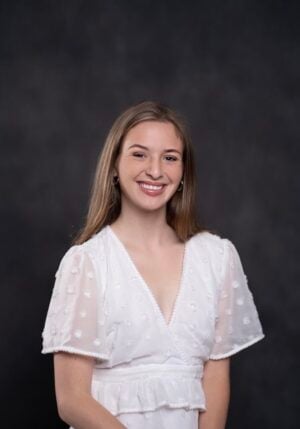 "Imagine the vibrant city streets, buzzing with activity as people carry out their daily routines. Sarah, an avid cyclist, begins her morning commute. As she merges with traffic, her heart races alongside the cars whizzing past her. Amidst blaring horns and exhaust fumes, she yearns for a safer route where she can ride freely, shielded from the constant risk of becoming an unnoticed statistic. Sarah's experience reflects that of countless urban bicyclists. While cycling has gained popularity as a sustainable mode of transportation, the challenges faced by cyclists on the roads often go unnoticed, putting their safety at significant risk."
Please submit your information and essay in the form below.