A Wrongful Death Attorney Can Help Your Case
The loss of a family member is a devastating event, often with both emotional and financial consequences. When dealing with grief, the last thing you should have to worry about is how you will pay your bills.
If you've lost a loved one due to another person's negligence, you may be entitled to financial compensation from the responsible party. An experienced wrongful death attorney with The Advocates can help you understand your legal options and build your wrongful death suit.
You are not alone. The Utah Advocates have three decades of experience in helping surviving family members after fatal accidents. We will be by your side to listen to your story, help you find the resources you need, and ease your financial burden. Contact us today for a free consultation.
$2.5 Million
Head-on Car Crash
$1.3 Million
Side Impact Auto Accident
$1.0 Million
Side Impact Car Crash
$1.1 Million
Semi-Truck Auto Accident
$1.2 Million
Multiple Vehicle Collision
You will pay nothing out-of-pocket when you hire an Advocate. Your initial consultation with us is always 100% free. There are never any upfront costs or hidden fees. Our attorneys work on a contingency basis, which means that our attorney fees are calculated as a percentage of your settlement. We don't get paid unless we win your case and you receive a settlement. For more information on how settlements and payment work, please see our contingency fee information page.
The best way to know if you have a case is to speak with an attorney. The Advocates offer free consultations—you can speak with a qualified legal team to understand what your case is worth without paying a dime. Once you have decided to hire an Advocate, we will investigate your accident to firmly establish liability.
Not every accident requires an attorney. However, if the accident resulted in serious injuries, fatalities, and/or significant property damage, it is a good idea to contact a lawyer. An experienced personal injury attorney can help you navigate the claims process, which can be lengthy and complex. Your attorney will build your case, keep track of medical records, negotiate with insurance companies, and represent you in court if necessary. Studies have shown that accident victims who hire a personal injury lawyer can receive settlements up to 3.5 times larger than if they settled on their own.
How The Advocates Can Help with Your Wrongful Death Claim
When you hire The Advocates to represent your wrongful death case, you won't pay a dime in attorney fees unless we settle your case. That's our promise to you and your family. Here are just a few more ways The Advocates can help:
Guide you through the legal process
Build your case
Negotiate with insurance adjusters
Fight for the settlement you deserve
"Hiring The Advocates was the best move I could have made after my accident. They were very professional and made me feel confident my case would go smoothly. They really put me at ease. I would recommend them to anyone!" - Robert S.
The Advocates Wrongful Death Claim Process
Step 1: Investigate the Accident
The first step The Advocates will take is investigating the accident or wrongful act. Our attorneys do this by obtaining police reports, examining evidence, and speaking to any relevant witnesses and experts. Once we have established liability, we will begin to build your injury claim.
Step 2: Build Your Claim
Building your wrongful death claim is one of the most time-consuming steps in the entire process. This will require compiling medical records and other documents to understand the full scope of your damages.
Step 3: Negotiate a Settlement
Once all documents have been gathered, your attorney will send out a demand package to the at-fault party's insurance. Afterwards, negotiations with your attorney will begin. If the other party refuses to make a fair offer, you have the option to file a suit.
Step 4: Litigate If Necessary
Time-wise, litigation is the longest step in the claim process, possibly extending the life of your claim one or two years. Fortunately, many cases can be settled in the negotiation phase. If you do decide to file a lawsuit, be prepared to potentially appear before a judge and jury.
What are common causes of wrongful death?
Some of the most common fatal accidents and injuries include:
Medical malpractice
Defective products and dangerous drugs
Work-related injuries
Whether you lost your loved one in a motor vehicle accident or due to the negligence of a large corporation, The Advocates can help.
Utah Wrongful Death Lawsuit FAQs
What damages can I seek in a wrongful death lawsuit?
Every personal injury case is different. The types of damages a surviving spouse or family member can seek in a wrongful death case will depend on their relationship to the deceased person, the type of accident, and the circumstances surrounding the decedent's death.
Some commonly sought economic and non-economic damages in a wrongful death case include:
Funeral expenses
Burial expenses
Medical bills
Loss of financial support from the deceased person
Loss of companionship
In some cases, a victim may be granted punitive damages, though these are rare. A personal injury attorney can help you understand your legal rights.
How much are wrongful death lawsuits worth?
There is no way to reliably gauge the worth of a case without speaking to a wrongful death attorney. Some personal injury claims and wrongful death lawsuits are worth a few thousand dollars, while others can be worth hundreds of thousands or even millions of dollars.


An attorney with The Advocates law firm can offer you a free case evaluation. They will help you understand whether you have a valid claim and provide an estimate of the amount of money your case is worth.
Who may bring a wrongful death action?
In many cases, the only people permitted to file a wrongful death suit in Utah are the immediate family members of the decedent, such as a spouse, adult child, or parent. If the deceased person does not have any surviving immediate family members, then other family members may be able to bring about legal action.
The person filing the suit is known as the "presumptive personal representative" of the decedent.
What is the statute of limitations for a wrongful death case in Utah?
The statute of limitations is the amount of time a plaintiff has to file a case. If they fail to file within this time limit, they lose their right of action.
In Utah, the statute of limitations for wrongful death cases is two years. This may seem like a long time, but the legal process can move slowly. It is important to speak to a lawyer as soon as you believe you have a case–if the statute of limitations expires before you file, you will lose your right to a wrongful death settlement.
When Should I Hire a Utah Wrongful Death Lawyer?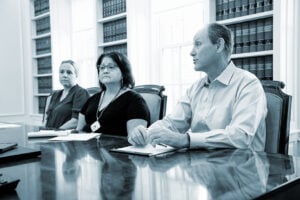 After the death of a loved one, navigating the claims process on your own can feel like too much to handle. You deserve to be able to deal with your grief without having to fight insurance companies or worry about how you will make ends meet.
A wrongful death attorney with The Advocates will be there for you. If you need help keeping your bills from going to collections while you wait for your case to settle, your Advocate can help you set up liens. We can assist you in communicating with your employer or finding the local resources you need. With an Advocate on your side, your needs always come first.
Your legal team will work hard to build your case and negotiate with insurance companies so you can focus on your family and well-being. We will do everything in our power to hold the at-fault party responsible for your loved one's death.
Contact The Advocates today for a free consultation. After the loss of a family member, you deserve peace of mind and a sense of justice. You deserve an Advocate.