A Car Accident Attorney Can Help You Recover
The aftermath of a car accident is a particularly stressful time. You may be facing serious injuries, an inability to work, and medical bills piling up around you. Confronted with such a worrisome situation, it's normal to feel as if your life is coming undone.
The accident attorneys with The Advocates understand what you are going through, and we are ready to help with your recovery. We are a personal injury law firm with more than twenty years of experience helping car accident victims in Salt Lake City, Provo, and all throughout Utah. The Advocates take pride in treating each and every client with the same dedication and respect we would give a member of our own family. That's our commitment to you and your case.
Don't wait to start the road to recovery. An Advocate is ready to speak with you about your automobile accident. Contact us today for a free consultation. Why settle for an ordinary car accident lawyer when you can have an Advocate on your side?
$2.5 Million
Head-on Car Crash
$1.3 Million
Side Impact Auto Accident
$1.0 Million
Side Impact Car Crash
$1.1 Million
Semi-Truck Auto Accident
$1.2 Million
Multiple Vehicle Collision
What sets The Advocates apart is that our team truly cares about you and your recovery. In addition to experienced, competent legal representation, The Advocates offer thoughtful care and attention personalized to your unique needs. You'll never be just another case among thousands when you have an Advocate on your side. We will go the extra mile for you and your family.
While it is possible to settle your injury claim on your own, the other party's insurance company will not make it easy for you. They may try to diminish the severity of your injuries or vehicle damage. They may try to offer you a fast settlement to get you to settle for less than you deserve. They may even try to deny liability altogether. An experienced personal injury attorney can help you avoid common mistakes to help preserve your entire settlement. The Advocates have helped thousands of clients settle their car accident cases successfully, and we can help you too.
There is no fee for a consultation with an Advocate. Discussing your potential case is always free. There is also no upfront charge to get started on your case. The Advocates work on contingency only. Our legal fees are calculated as a percentage of your settlement and are only collected after your case is completed. This means that you only pay us if we win your case and you collect compensation. That's The Advocates Guarantee.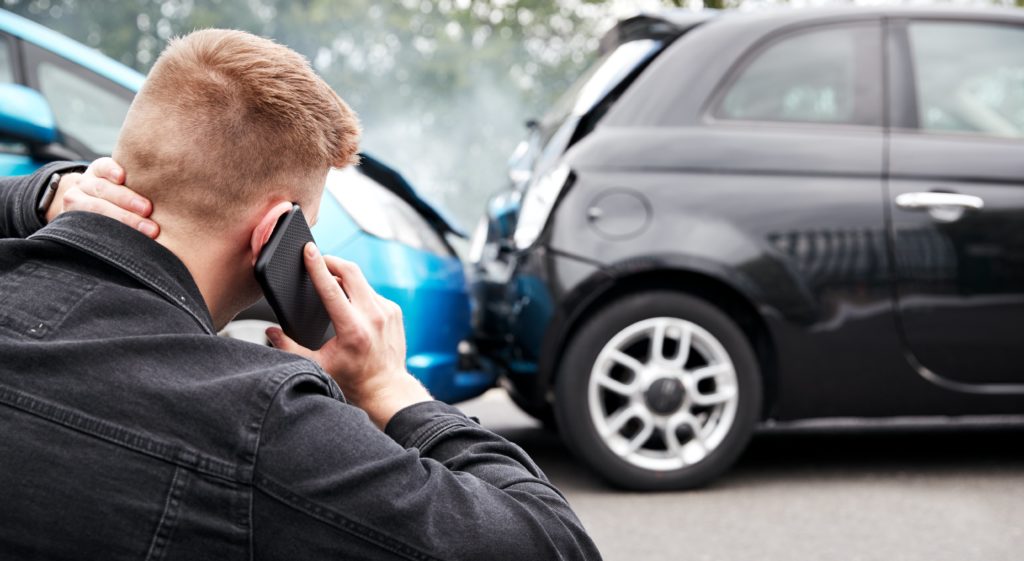 How Can The Advocates Help Me After My Auto Accident?
When you hire The Advocates to represent your injury claim, you'll never have to worry about upfront consultation costs or hidden fees. Our attorneys work on a contingency basis, meaning we don't get paid unless you do. If we don't win your case, you won't owe us a dime in attorney fees. That is The Advocates' promise to you. Below are a just few ways The Advocates can help your case:
We offer 24/7 open communication with our clients
Our attorneys provide legal consultations free of charge
The Advocates team will put the needs of you and your family first
We will take on negotiations with insurance companies so you can focus on feeling better
"Hiring The Advocates was the best move I could have made after my accident. They were very professional and made me feel confident my case would go smoothly. They really put me at ease. I would recommend them to anyone!" - Robert S.
Why You Need a Car Accident Attorney

 Hiring an experienced and skilled personal injury lawyer is the best way to get maximum compensation after your motor vehicle accident. Trying to settle your claim on your own could put you at risk for settling for less than you deserve. In fact, studies have proven that hiring an attorney for your car accident case can increase the value of your settlement by up to 3.5 times. The Advocates know the tricks insurance companies use to avoid offering fair compensation. We will do everything we can to ensure you get the settlement you deserve.
The Advocates Car Accident Claim Process
Step 1: Investigate the Accident
The first step The Advocates' legal team will take is investigating your accident. Our attorneys do this by requesting a police report about your accident, examining any videos or photographs of the crash scene, and by contacting any relevant witnesses to the accident. Once we have firmly established liability, we will begin the hard work of building your personal injury claim.
Step 2: Build Your Claim
Building your car accident injury claim is one of the most time-consuming steps in the entire process. Your medical treatment must be complete before your claim is ready. The sum total of your damages cannot be known until all your medical expenses can be accounted for.
Step 3: Negotiate a Settlement
Once you are finished treating your injuries and your medical records have been gathered, your attorney will send out a demand package to the at-fault party's insurance. Afterwards, your attorney will begin negotiations. In most cases, a settlement can be reached during this step. If the other party refuses to make a fair offer, then you will have the option to file a lawsuit.
Step 4: Litigate If Necessary
Timewise, litigation is the longest step in the claims process, potentially extending the life of your claim one or two years. In this step, your attorney will argue your case in front of a judge, jury, and/or arbitrator. They will determine who is at fault for the accident and the amount in damages that will be awarded.
How to Best Handle a Car Accident
A car accident can be incredibly stressful. Immediately following the accident, it's normal to feel shocked, upset, and confused. However, it's best to stay as calm as possible and take the following actions in order to preserve your right to a settlement.
At the scene of the accident
The scene of a car accident is likely not a place you want to be for an extended period of time. However, it's crucial that you remain at the scene. Utah law requires that drivers involved in a motor vehicle collision stay at the scene to render aid and exchange information with the other involved parties. Failing to do so could be classified as a misdemeanor or felony, depending on the nature of the accident.
While at the scene, what you do and say is important. Be sure to take the following actions to protect yourself and preserve your case.
Examine injuries
Immediately after being involved in an accident, take stock of your injuries, and have all passengers do the same. If anyone suffered serious injuries, call 911.
Even if no one appears to be seriously injured, everyone involved should seek medical treatment as soon as possible after the accident.
Move your vehicle to safety
If you are physically able and your vehicle is operable, state law requires that you move your vehicle out of the way of traffic. Get onto the shoulder or, if possible, into a nearby parking lot.
In severe accidents where there are serious injuries or significant vehicle damage, the police and/or a towing company may need to assist with the removal of all vehicles from the roadway.
Don't admit fault
Apologizing to the other driver or accepting part or all of the blame for the accident may feel like the nice thing to do. Do not do this. Admitting fault will seriously damage your ability to file a claim.
In many car accident cases, an investigation must be done to determine who was at fault for the accident and to what degree. If you accept the blame for the accident, an investigation may not be done.
Utah is a modified comparative fault state, meaning that even if you were partly responsible for the crash, you can still receive financial compensation, as long as you are not found to be more than 51% at fault.
By taking full responsibility for the accident before an investigation is ever done, you not only lose your right of action, but potentially open yourself up to suits from the other driver. Do not admit fault for the accident to the police, the other driver, insurance adjusters, or anyone else involved in the accident.
Call the police
Most insurance companies will require a police report in order to file a claim. Even if there is no apparent medical emergency and 911 is not called, you should call the local non-emergency line and request that a police officer come to the scene.
When the officer arrives, they will ask questions regarding the circumstances surrounding the accident. Give them the facts about your accident but avoid offering opinions or speculation on who or what caused the crash.
This police report can be used as evidence when building your personal injury claim.
Exchange information
In any accident that results in injury or property damage, you are required by law to exchange information with the other driver. Keep this conversation calm and professional. Be sure to obtain the following information from them:
 

Full name

 

Phone number

Address

Insurance information

 

License plate number
Take photos
The more thoroughly you document your accident, the easier it will be to build your case later on. Photo and video footage are particularly useful, as they are more reliable than the memories of those at the scene. Take pictures and videos of the following:
 

Your injuries

All involved vehicles from multiple angles

Traffic and weather conditions

 

Marks on the pavement

The scene as a whole from multiple angles
This documentation can be used by your attorney when building your case. Even if something doesn't seem important, take a picture anyway. Your Advocate can help you determine what is useful later.
After leaving the scene
Once you have been cleared to leave the scene, there are still a few actions you must take. It is important that you do the following in order to take care of yourself and further your recovery.
Seek medical treatment
If no ambulance was called to the scene of the accident, you should seek medical care as soon as possible. Even if you do not believe you are injured, it is crucial that you see a doctor. Tell your physician that you were involved in a car crash so they know what to look for.
You may have hidden injuries, such as internal damage, brain injuries, or small fractures. These injuries may not be apparent at first, but they can progress and become harder to treat the longer you wait to seek treatment.
Your doctor will also be able to document all your injuries and the treatment you receive for them. This will be useful when building your case and calculating your damages. You will not be able to send a demand letter to the other party until you have finished treatment.
File an insurance claim
Even if you plan to file a personal injury claim against the other driver's insurance company, you should still file a claim with your own car insurance provider. Utah law requires all insurance policies to include at least $3,000 of personal injury protection, otherwise known as PIP. PIP can help cover medical expenses, lost income, and funeral expenses (in the case of a fatality). Your own coverage may include more than the $3,000 minimum.
In order to file a claim with your insurance provider, you should have the following information handy:
Date, time, and location of your accident

Name and contact information of other driver

Other

driver's insurance

and vehicle information

Police report number
If your medical expenses exceed $3,000, or you face permanent disability or disfigurement as a result of the accident, you can also file a claim against the other driver. If someone died in the accident, you may file a wrongful death suit.
Hire a Car Accident Attorney
An auto accident attorney can provide you with legal advice and guidance throughout the entirety of your recovery. The Advocates will help you access medical care, get your car repaired, build your case, negotiate with insurance companies, and receive fair compensation for your damages. 
The statute of limitations for car accident injuries in Utah is four years. After this length of time, you lose your ability to file a personal injury claim. Call The Advocates' Utah car accident attorneys today to get started on the road to recovery. You deserve fair compensation for your injuries. You deserve an Advocate.