A Bicycle Accident Attorney Can Help Your Case
Nothing is worse than being hit by a car while while going out for a bicycle ride. Unfortunately, outside of a helmet, bicyclists have very few options in the way of protection and, as a result, are at risk of suffering dangerous, life-threatening injuries. Accidents have become so common for bicyclists in Utah that being hit by an automobile isn't a matter of if, but when.
Don't worry. An attorney with The Advocates is ready to help you make the best possible recovery after your bicycle accident. For over 25 years now, The Advocates has helped thousands of injury victims recover millions of dollars in compensation following their accidents. Our attorneys take pride in putting the needs of their clients and their families above all else. If you've been hit by an automobile while riding a bicycle, you could very well be entitled to compensation according to Utah law.
Contact The Advocates today about your bicycle accident injury case. Our attorneys are ready to answer any and all legal questions you may have. Simply call 1-801-981-5871, fill out the form above or below, or chat online with a live attorney right this minute from the bottom of your screen. You deserve an Advocate!
$2.5 Million
Head-on Car Crash
$1.3 Million
Side Impact Auto Accident
$1.0 Million
Side Impact Car Crash
$1.1 Million
Semi-Truck Auto Accident
$1.2 Million
Multiple Vehicle Collision
An Advocate attorney is vastly superior to an ordinary bicycle accident lawyer. An Advocate truly cares about you and your full recovery. An Advocate attorney will go the extra mile to help you win the best settlement for your injuries and losses. When you hire an Advocate to represent your case, your recovery will always be our #1 priority!
Unlike some personal injury law firms in Utah, The Advocates charge their clients absolutely nothing up front. Our attorneys take pride in working on a contingency basis, meaning we don't get paid unless you do. If we are unable to bring your bicycle accident claim to a successful settlement or verdict, then you won't owe us a dime in attorney fees. That's The Advocates' promise to you!
The best way to determine if you have a viable bicycle accident case is contact an Advocate attorney today for a free consultation about your case. Our attorneys are experts at determining liability in accidents involving bicycles. Legal consultations are always free when with The Advocates, so don't wait! Contact our attorneys today by either calling 1-801-981-5871, filling out the form above, or chatting with a live attorney right now. You deserve an Advocate!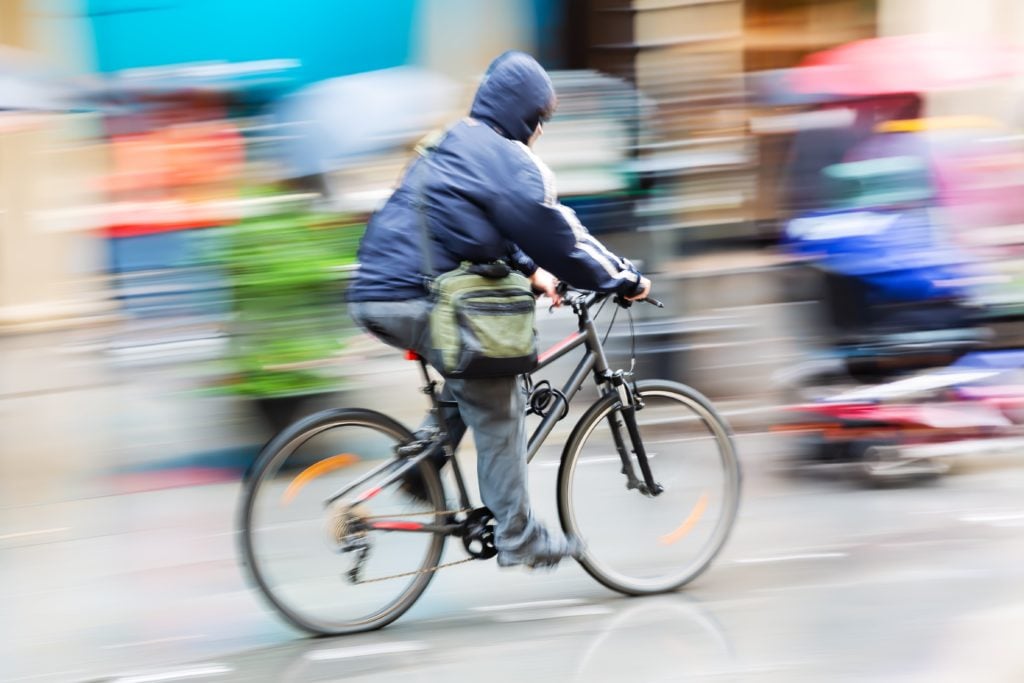 How The Advocates Can Help Your Bicycle Accident Claim
When you hire The Advocates to represent your bicycle accident case, you won't pay a dime in attorney fees unless we settle your case. That's our promise to you and your family. Here are just a few more ways The Advocates can help you:
• Build the Best Pedestrian Accident Case
• Compile Your Medical Records
• Negotiate with Insurance Adjusters
• Win You the Best Possible Offer for Your Case
"Hiring The Advocates was the best move I could have made after my accident. They were very professional and made me feel confident my case would go smoothly. They really put me at ease. I would recommend them to anyone!" - Robert S.
Why You Need a Bicycle Accident Lawyer

Hiring an experienced bicycle accident attorney is the very best way you can prevent the insurance companies from taking advantage of your bicycle injury claim. Multiple studies have shown the profound effect hiring an attorney can have on your injury claim, potentially increasing the value of your case by up to 5X than if you try to settle on your own. Don't let the insurance companies push you around. Hire the Advocates and make them pay what you are owed according to Utah law.
The Advocates Bicycle Accident Claim Process
Step 1: Investigate the Accident
The first steps The Advocates will take is to investigate your accident. Our attorneys do this by obtaining a police report about your accident, examining any photos or videos of the crash scene, and speaking to any relevant witnesses. Once we have established liability, we will begin to build your injury claim.
Step 2: Build Your Claim
Building your car accident injury claim is one of the most time-consuming steps in the entire process. Our staff must wait until you are finished treatment for your injuries before we can compile a comprehensive medical record of the injuries you have suffered from your accident. This is a timely process so be patient.
Step 3: Negotiate a Settlement
Once you are finished treating your injuries and your medical records have been gathered, your attorney will send out a demand package to the at-fault party's insurance. Afterwards, negotiations with your attorney will begin. If we are unable to negotiate a fair offer, then you will have the option to file a lawsuit.
Step 4: Litigate If Necessary
Time wise, litigation is the longest step in the claim process, possibly extending the life of your claim one or, even, two years. If you do decide to file a lawsuit, be prepared to potentially appear before a judge and jury.
Types of Claims Our Bicycle Accident Attorneys Represent
Over the years, the attorneys with The Advocates have represented multiple types of bicycle accident claim. Below are just a few bicycle accident injury claims we've assisted with:
Bicycle accidents caused by intoxicated drivers
Rideshare vehicles from Uber or Lyft striking with bicycles
Accidents involving other bicyclists
Bicycle collisions caused by distracted drivers
Accidents caused by a failure to yield
Crashes caused by potholes or improperly maintained roads
Bicycle accidents caused by defective equipment
Accidents taking place in congested intersections
Speak with an Advocate About Your Case!