A
Bicycle Accident Attorney
Can Help Your Case
A collision with a motor vehicle is one of the worst things that can happen to a bicyclist.. Unfortunately, outside of a helmet, bicyclists have very few options in the way of protection and, as a result, are at risk of suffering dangerous, even life-threatening, injuries. Accidents have become so common for bicyclists in Utah that being hit by an automobile isn't a matter of if, but when.
Don't worry. A personal injury attorney with The Advocates is ready to help you make the best possible recovery after your bicycle accident. For more than two decades The Advocates have helped thousands of bicycle accident victims in Salt Lake City, Provo, and all throughout Utah. Our attorneys take pride in putting the needs of our clients and their families above all else. 
If you or a loved one has been injured in a bike accident in the state of Utah, The Advocates are here to help. We can assist you in accessing medical care, getting your bicycle repaired, building your injury case, negotiating with insurance companies, and receiving the settlement you deserve. Contact us today for a free consultation– we are ready to get you started on the road to recovery.
$2.5 Million
Head-on Car Crash
$1.3 Million
Side Impact Auto Accident
$1.0 Million
Side Impact Car Crash
$1.1 Million
Semi-Truck Auto Accident
$1.2 Million
Multiple Vehicle Collision
An Advocate bicycle accident lawyer truly cares about you and your full recovery. An Advocate attorney will go the extra mile to help you win the best settlement for your injuries and losses. When you hire an Advocate to represent your case, you are never alone, and you are never just another accident case. We understand that your case is unique, just like you, and we will provide you with the personalized care you need to get your life back on track.
An initial consultation is always free. It will cost you nothing to speak with our team to determine if you have a case. Our attorneys are happy to discuss your unique needs and give you an idea of how we can help. Once you have decided to hire an Advocate, we will get started on your case right away. There are no up-front costs to get started. We work on contingency, which means we only get paid if we win your case. At the end of your case, our attorney fees are calculated as a percentage of your settlement. Every case is different, and every settlement will be different too, depending on the severity of your injuries, other damages you suffered, the amount of time your medical treatment takes, and the willingness of the other party to settle.
Every bike accident is unique. The best way to determine whether you have a case is to speak with a personal injury lawyer. Your attorney will look at police reports and other evidence from the scene of the accident in order to establish liability. Once that has been done, they will compile your medical records and other economic and non-economic damages to determine how much you are owed in a settlement. In many cases, accident victims seek compensation for the following: Medical expenses Property damage Lost wages and loss of future earnings Pain and suffering Funeral expenses (in the case of wrongful death) Some of these may not apply to your case. An Advocate can help you understand your options after your accident.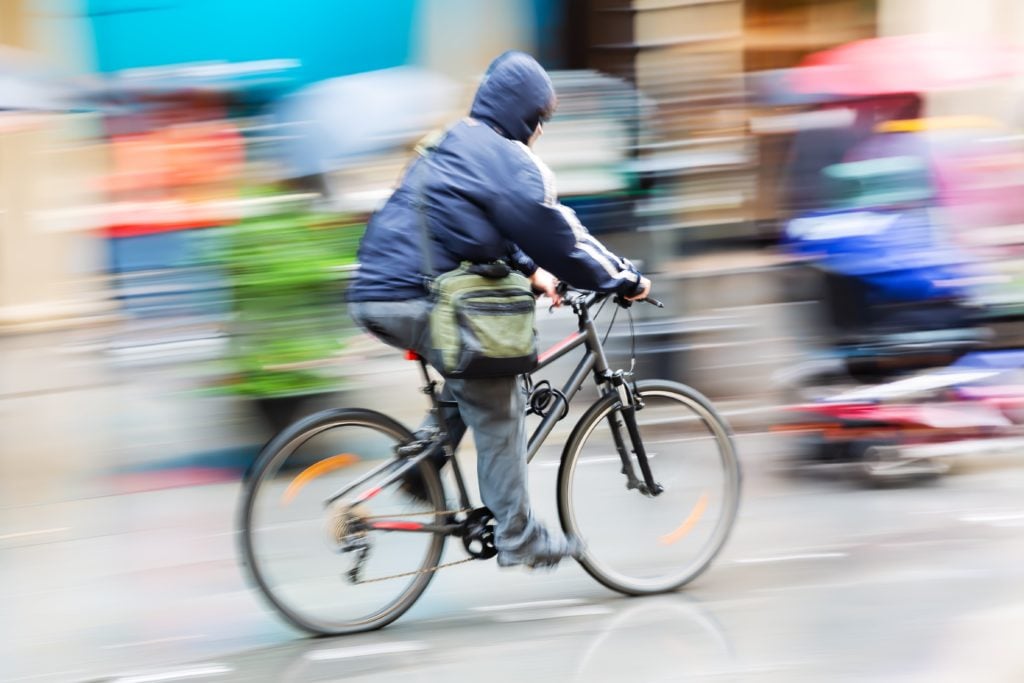 How The Advocates Can Help Your Bicycle Accident Claim
When you hire The Advocates to represent your bicycle accident case, you won't pay a dime in attorney fees unless we settle your case. That's our promise to you and your family. Here are just a few more ways The Advocates can help you:
Help you build your case
Compile your medical records and other documents
Negotiate with insurance adjusters
Fight for the settlement you deserve
"Hiring The Advocates was the best move I could have made after my accident. They were very professional and made me feel confident my case would go smoothly. They really put me at ease. I would recommend them to anyone!" - Robert S.
Why You Need a Bicycle Accident Lawyer
Why You Need a
Bicycle Accident Lawyer
Hiring an experienced bicycle accident attorney is the very best way to prevent insurance companies from taking advantage of your bicycle injury claim. Studies have shown the profound effect hiring an attorney can have on your injury claim, potentially increasing the value of your case by up to 3.5 times compared to settling on your own.
Don't let the insurance companies push you around. Hire the Advocates and make them pay what you are owed according to Utah law.
The Advocates Bicycle Accident Claim Process
Step 1: Investigate the Accident
The first step The Advocates will take is investigating your accident. Our attorneys do this by obtaining a police report about your accident, examining any photos or videos of the crash scene, and speaking to any relevant witnesses. Once we have established liability, we will begin to build your injury claim.
Step 2: Build Your Claim
Building your bicycle accident injury claim is one of the most time-consuming steps in the entire process. Our staff must wait until you have finished treatment for your injuries before we can compile a comprehensive medical record of the injuries you have suffered from your accident.
Step 3: Negotiate a Settlement
Once you are finished treating your injuries and your medical records have been gathered, your attorney will send out a demand package to the at-fault party's insurance. Afterwards, negotiations with your attorney will begin. If the other party refuses to make a fair offer, you have the option to file a suit.
Step 4: Litigate If Necessary
Time-wise, litigation is the longest step in the claim process, possibly extending the life of your claim one or two years. If you do decide to file a lawsuit, be prepared to potentially appear before a judge and jury.

Utah Bicycle Injury Statistics
Knowing where and when bicycle accidents are most likely to happen can help you avoid them, whether you are riding or driving. The Utah Highway Safety Office keeps a live count of bicycle accidents and resulting fatalities. Below are statistics for bicycle accidents and injuries in the state of Utah.
What are common
bicycle accident injuries
?
Bicycle accidents are often far more devastating to cyclists than motorists, because of the size and speed of motor vehicles, as well as their safety features, like seat belts and airbags. Common injuries after a bicycle accident include:
Head injuries

, including traumatic

brain injuries

Spinal cord injuries

Broken bones

Strains and sprains

Lacerations

, bruising, and

road rash
It's important to seek medical treatment immediately after a bicycle accident. Your medical bills can be added to your injury claim.
What are common causes of
bicycle crashes
?
Over the years, the attorneys with The Advocates have represented many types of bicycle accident claims. Some common bicycle accident injury claims include crashes resulting from:
Impaired driving or riding

Distracted driving or riding

Failure to yield

right-of-way

Failure to check blind spots

Improper turns or lane changes

Failure to obey traffic signs and signals

Bicyclist

on wrong side of road
When and where are bicycle accidents most likely to occur?
Most bike crashes happen in the hours between 7:00 am- 8:00 am and 3:00 pm-6:00 pm. They are more common during the summer months (May-September) and weekdays see more accidents than weekends.
Bicycles are most frequently hit when entering or crossing the road, usually at a crosswalk or intersection. Another large portion of injured riders are hit when traveling legally on the roadway (with the direction of traffic, near the right side of the road).
How many bicycle accidents happen in
Utah
each year?
Fortunately, in recent years, the number of bicycle accidents each year has been declining. However, Utah still sees around 600 bike accidents each year, with more than 500 injured bicyclists annually. Around 5 bicyclists are killed in accidents every year.
The largest proportion of bicycle accident victims are between 10-30 years old, and around 70% are male.
Utah Bicycle Laws
Knowing the rules of the road can help keep everyone safe, whether they're a cyclist or driver. Each state and city has different laws regarding bicycles, so it's important to be informed of the rules in every location you plan to ride. Below are some of Utah's laws for bicycles.
Do
cyclists
have to wear a helmet?
There are currently no helmet laws for bicyclists in the state of Utah, for minors or otherwise. However, it is a smart idea to always wear a helmet when riding. Helmets have been proven to prevent head injuries, which can seriously diminish your quality of life, or even be fatal. More than 60% of bicyclists killed in accidents in Utah over the last several years were not wearing a helmet.
A properly-fitting helmet is one that does not wiggle around when you move your head. The chin strap should fit snugly under your chin. There should be no cracks or other damage to the surface of the helmet.
Do bicycles have to ride in the
bike lane
?
Bicyclists should ride as close to the ride side of the road as is safe and practicable. Bicyclists are not required to ride on the shoulder; in fact, the shoulder can be dangerous thanks to debris and obstacles that often make their way there.
If a bike lane is available, it is not required for a biker to use it, however, it can be safer. Riding in the bike lane is the only time a cyclist is permitted to pass cars and trucks on the right side.
If there is no bike lane, bikers should stay in the right lane unless passing or making a left turn. 
In some cases, posted signs may direct bikers to use an adjacent bike path instead of the road.
Can bicycles ride on the sidewalk?
Utah law states that bicycles may ride on the sidewalk, with some exceptions.
Downtown Salt Lake City and Provo areas do not allow cyclists to ride on the sidewalk. Some college campuses also prohibit sidewalk riding in certain areas.
When riding on the sidewalk, bikers should yield to pedestrians and give an audible warning when passing. They should follow signs and signals for pedestrians, including lights at crosswalks.
What equipment must a bicycle have to be street-legal?
From a half-hour after sunset to a half-hour before sunrise, all bicycles must have a white headlight, a red tail light or rear reflector, and side reflectors, all visible from at least 500 feet.
Bicycles must also have brakes that are capable of fully stopping the bike within 25 feet from a speed of 10 miles per hour.
Other equipment that is not required but can increase biker safety includes a bell or horn (no whistles or sirens) and bright, reflective clothing on the bicyclist.
What rights and responsibilities do
bicyclists
have on
Utah
roadways
?
Bicyclists must follow the same rules of the road as motor vehicles. This means that bikers must signal before changing lanes or making a turn. They must stop at all red lights and stop signs, and obey other signs and signals. They must yield the right-of-way when applicable, including to pedestrians.
In turn, bicycles receive the same rights as motor vehicles as well. Cars and trucks are required to give bicyclists at least 3 feet of space when passing. Motorists also may not attempt to distract a bicyclist.