A
Motorcycle Accident Attorney
is Here to Help
A motorcycle injury claim can be especially tricky to handle on your own. Insurance companies frequently deny motorcycle accident claims for all sorts of unfair reasons. They try to pin dishonest stereotypes on motorcyclists in order to blame them for their own injuries. It is all too common for insurance providers to outright deny motorcycle accident claims without so much as a second look.
A personal injury attorney can help you get the compensation you deserve. The Advocates personal injury law firm has been handling motorcycle accident cases in Salt Lake City and throughout Utah for more than two decades. We will take over the stress of investigating your accident, building your claim, and negotiating a settlement. We know the tricks insurance providers use to avoid paying you fairly and can help you avoid common mistakes that could damage your case.
If you or a loved one has been injured in a motorcycle accident in the state of Utah, it's time to contact The Advocates. We are ready to help you begin the road to recovery.
$2.5 Million
Head-on Car Crash
$1.3 Million
Side Impact Auto Accident
$1.0 Million
Side Impact Car Crash
$1.1 Million
Semi-Truck Auto Accident
$1.2 Million
Multiple Vehicle Collision
Put simply, an Advocate sets themselves apart because they truly care about you and your recovery. Whether you need help building a property damage claim, gathering your medical records, or just need a friendly ear to listen to your story, The Advocates are here for you.
Studies have shown that motorcycle accident victims who hire a personal injury lawyer can receive settlements up to 3.5 times larger than if they tried to settle on their own. An Advocate will do more than offer you legal advice; we will help you with whatever you need to move forward with your recovery. We will help you access medical care, find a repair shop for your motorcycle, communicate with your employer regarding your accident, and more. When you hire an Advocate, you get fierce representation, a listening ear, and a voice in the legal process.
The amount of compensation you can receive for your damages depends on the circumstances surrounding your case. An Advocate can give you a free case evaluation to help determine what damages you can seek. Some common damages following motorcycle accidents include: Medical expenses Motorcycle repairs Lost wages and loss of future earnings Pain and suffering Funeral expenses Contact The Advocates today for a free consultation.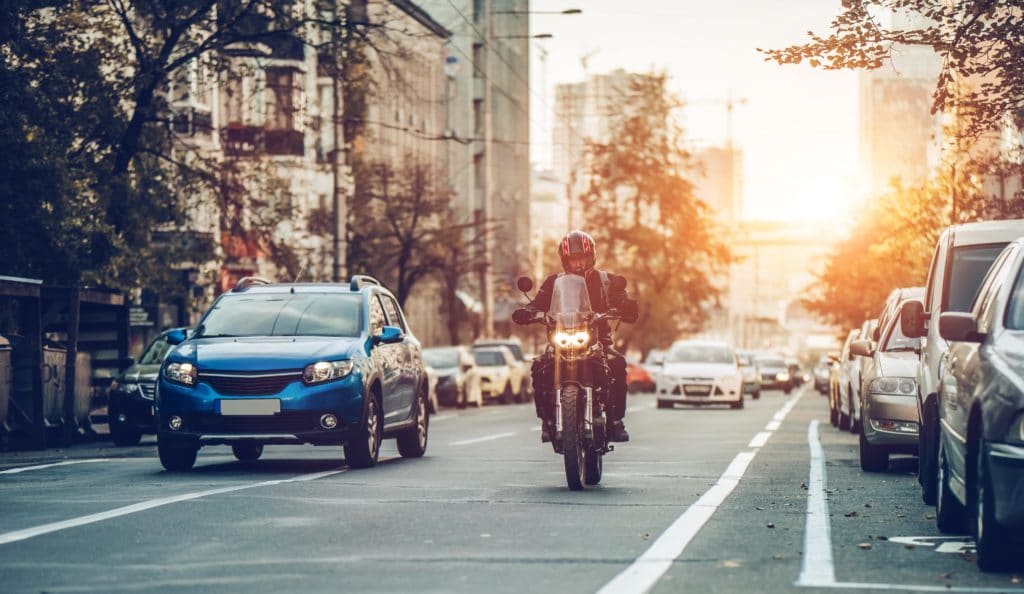 What Can The Advocates Do For My Case?
When you hire an Advocate to represent your case, you'll never have to worry about paying any hidden fees or consultation costs. Our attorneys work on what's known as a contingency basis. This means that we don't get paid unless you do. If we don't win you a fair settlement then you won't owe us a dime in attorney fees. That's our promise to you. Below are a few ways The Advocates can help your case:
Build a winning motorcycle accident claim
Negotiate the best settlement possible
Compile your medical records
Listen to your story
"Hiring The Advocates was the best move I could have made after my accident. They were very professional and made me feel confident my case would go smoothly. They really put me at ease. I would recommend them to anyone!" - Robert S.
Why You Need a Motorcycle Accident Lawyer
Hiring an experienced motorcycle accident attorney is the best way to stop the insurance companies from taking advantage of you. Attempting to fight insurance providers on your own can be a frustrating and overwhelming experience.
Hiring an experienced Utah motorcycle accident attorney will help set your case up for success. From the moment you contact us to the day your case is settled, The Advocates will be by your side. With an Advocate, you are never alone.
The Advocates Motorcycle Accident Claim Process
Step 1: Investigate the Accident
The first steps The Advocates will take is to investigate your accident. Our attorneys do this by obtaining a police report about your accident, examining any photos or videos of the crash scene, and speaking to any relevant witnesses. Once we have established liability, we will begin to build your injury claim.
Step 2: Build Your Claim
Building your car accident injury claim is one of the most time-consuming steps in the entire process. Our team must wait until you are finished being treated for your injuries before we can compile a comprehensive medical record of your accident-related injuries. Depending on the severity of your injuries, this step can take months or even years.
Step 3: Negotiate a Settlement
Once you are finished treating your injuries and your medical records have been gathered, your attorney will send out a demand package to the at-fault party's insurance. Afterwards, negotiations with your attorney will begin. If the other party refuses to make a fair offer, then you will have the option to file a lawsuit.
Step 4: Litigate Your Case
Time-wise, litigation is the longest step in the claim process, possibly extending the life of your claim one or two years. If you do decide to file a lawsuit, be prepared to potentially appear before a judge and jury.
Most Common Motorcycle Accident Injuries
As most every experienced motorcyclist knows, it is all too easy to suffer a serious injury while riding. Compared to passenger vehicles, motorcycles have fewer safety features, such as seat belts and air bags. Motorcycle injuries can be extremely dangerous or even fatal for the biker. Some common injuries resulting from motorcycle accidents include:
Broken bones

Traumatic Brain Injuries

(TBIs)

Damaged or severed

spinal cords

Paralysis or loss of limbs

Neck injuries

Soft tissue damage

Facial disfigurement

Slipped discs in the back

Road rash
If you've suffered an injury due to a motorcycle accident, you have a right to fair compensation for your injuries and losses. Don't settle for just a regular motorcycle accident lawyer. Hire an attorney with The Advocates and get maximum compensation for your injury case. 
Utah Motorcycle Accident
Statistics
Knowing the risks when riding a motorcycle can help you avoid an accident. Likewise, it's important for motorists in passenger vehicles to know how to drive safely around motorcyclists. Below are some statistics regarding motorcycle accidents in Utah.
What are common causes of motorcycle accidents?
The most common causes of motorcycle accidents are similar to causes of other types of motor vehicle crashes. However, because motorcycles are small compared to other vehicles, they have additional risks.
Common causes of motorcycle accidents include:
Speeding

Following too closely

Failure to yield

right-of-way

Failure to check blind spots

Improper turns

Distracted driving

Impaired driving
More than two-thirds of drivers involved in a collision with a motorcycle claim they did not see the biker in the moments leading up to the accident. Slowing down and looking twice for motorcycles can help save lives.
Where and when are
motorcycle collisions
most likely to occur?
Most motorcycle accidents in Utah occur during daylight hours between 2:00 pm and 6:00 pm. Weekends see far more motorcycle accidents than weekdays.
The most common types of motorcycle crashes are crashes during a turn and rear-end collisions. Another large portion of accidents occur when a motorcyclist collides with a fixed object.
Around 30% of motorcycle accident victims are between 20-29 years old. The large majority are male.
How many
motorcycle crashes
happen in
Utah
each year?
On average, there are 1,100 motorcycle accidents in Utah annually. This is only around 2% of all motor vehicle accidents each year, but motorcyclists are overrepresented in injuries and fatalities. Motorcycle riders make up more than 5% of all accident-related injuries, and 12% of accident-related fatalities each year.
Utah
Motorcycle Laws
The best way to be safe on the road, whether on a motorcycle or in a car, is to know the rules of the road. If you plan to ride a motorcycle on public roads, inform yourself of the local laws before riding. Motorcycle laws differ from state-to-state and even between cities, so it's important to always check ahead of time to ensure you are riding safely.
Do
motorcycle riders
have to wear a helmet?
Utah requires anyone under 21 to wear a helmet when riding a motorcycle, whether they are the operator or a passenger. Those who are 21 and older are not required to wear a helmet, but state officials and motorcycle organizations strongly encourage it.
Helmet use has been proven to help prevent serious injuries and fatalities in the event of a crash. Regardless of how old you are, wearing a properly-fitting helmet could be a life-saving decision.
Utah does not require eye protection to be worn, but it is a good idea. Goggles or a face shield can keep debris and bugs from entering your eyes, which is not only painful, but dangerous.
Is lane filtering legal?
In May 2019, Utah legalized lane filtering, or the practice of motorcycles and passenger vehicles sharing lanes at stop lights. This practice helps relieve traffic congestion. 
Lane filtering may only be done on roads with two or more lanes moving in the same direction, where the speed limit is 45 miles per hour or less. Traffic must be stopped (typically at a stop light), and the motorcyclist may move between cars at speeds no faster than 15 miles per hour.
As soon as traffic begins to move again, the motorcyclist must safely merge into a lane, no longer sharing it with cars or trucks. A motorcycle rider may not use the shoulder or bike lane for lane filtering.
What equipment does a motorcycle need?
In order to be street legal, Utah law requires that a motorcycle have the following equipment:
Rearview mirror on the left hand side

Turn signals

Horn

Brakes

A headlight, tail light, and brake light

Seat, footrests, and handholds for a passenger, if one is present
What is the
statute of limitations
for motorcycle accidents?
For most types of motor vehicle accidents in Utah, the statute of limitations is 4 years. After this length of time has passed, you will lose your ability to file a personal injury claim. The more quickly you contact an attorney, the better your chances will be of getting the settlement you deserve.
The Advocates are your Utah motorcycle accident attorneys, and we are ready to help. Contact us today for a free case evaluation. You deserve a stress-free recovery. You deserve an Advocate.