About The Advocates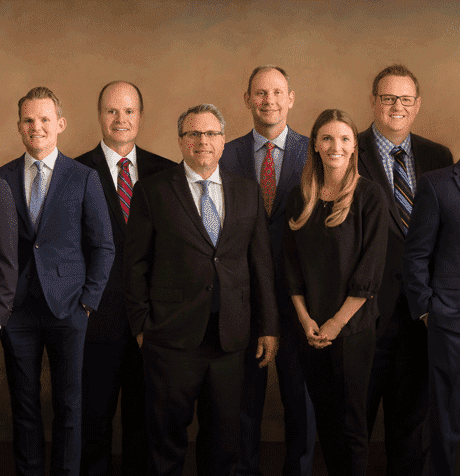 The Advocates are a team of experienced injury attorneys dedicated to the people throughout the great state of Utah. We take pride in providing victims of personal injury accidents a voice in the legal process and control over their own recovery. After you have been injured in an accident caused by the dangerous or negligent behavior of another individual, you need help getting what is fair from the insurance company. When you are the victim of a personal injury, it is often easy to feel lost, alone, and unheard. Insurance companies will do whatever they can to take advantage of you during your time of need. Don't worry. The attorneys with The Advocates are here to help you recover.
We will listen to your story, help you obtain medical treatment you need, and fight for your right to a fair settlement according to Utah law. As your personal attorneys, we will represent your case against the insurance providers and make sure they fulfill their responsibility by respecting your rights and compensating you for your injury. The Advocates is a law firm which is dedicated to helping you get the settlement you deserve.
What is an Advocate?
An advocate is a person who openly or publicly supports a particular cause
DEFINITION: An advocate is a person who openly or publicly supports a particular person or cause. The word comes from the Latin verb advocare, meaning "to summon," or "to call to [one's aid]." An advocate is a helper, someone who not only stands by you, but also stands up for you. Someone who takes upon him or herself your cause, whatever it may be. You can call upon him or her, and he or she will come to your aid. An advocate is there for you when you need help, and he or she does things for you that you are unable to do for yourself.
What Can The Advocates Do For You?
When it comes to your legal rights, your injury attorney at Driggs, Bills & Day is your personal Advocate. As your Advocate, our attorneys will always be there for you. We are ready to come to your aid when insurance companies refuse to treat you fairly or fail to offer appropriate compensation for your injuries. After you've been injured in an accident, you need an Advocate on your side.
Insurance providers will do all they can to avoid paying you just compensation for your injury claim. Their insurance adjusters will bully you into accepting a settlement that is far too low, they will deny liability for your accident, and even snoop on your social media in an attempt to prove you aren't as injured as you claim. While being involved in a personal injury accident is difficult enough, fighting the insurance company on your own is often too much to handle. The chances you receive a fair settlement or the compensation you are legally owed without an experienced attorney is rather low. You need a trusted legal expert who knows Utah law and has experience fighting cases just like yours.
A personal injury lawyer with The Advocates will protect your rights and guide you every step of the way. If you've been injured in an accident that was not your fault, you will not have to fight alone. With an Advocate on your side, you have a trusted ally who will take on the challenges of your injury claim and help you win maximum compensation for you injury claim. Why settle for second best when you can have an Advocate on your side? Hire one of our attorneys and obtain the settlement you are legally owed according to Utah law. You deserve an Advocate!
The Benefits of Hiring an Advocate
The Advocates handle so much more than just your accident claim. Our team can help with the following:
Deferring medical bills
Recovering lost wages
Finding a rental car
Referring to doctors and specialists
24/7 availability
Free initial consultation
Representing you aggressively and fairly
Firm Overview
---
Protecting Individual Rights for People Injured or Involved in an Accident
Established in 1992, The Advocates are personal injury and accident attorneys serving Utah with the mission of protecting individual rights for people who have been injured or involved in an accident. The Advocates strive to provide exceptional legal services while developing a personal relationship with their clients as they fight on their behalf. Our attorneys work to accommodate our clients to the best of their ability in order to better help aid in their recovery.
Our Goal
Our goal at The Advocates is to protect our clients' rights, ensure they are adequately compensated, and facilitate and aid in their recovery. From car accidents to defective drug lawsuits, our firm has the experience you need. We are skilled and experienced enough to handle large cases against corporations and insurance companies, yet small enough to offer the personal, hands-on approach clients want from their law firm.
Our Promise
Our lawyers and staff promise to work hard to exceed your expectations. We work hard not just to meet our clients' needs, but to anticipate them and provide an individualized approach to each client. We regularly ask for feedback on our services, as client input is extremely valuable in helping us develop our personal approach to injury law. In all of our practice areas, we have developed relationships with a variety of companies, businesses, and people to make processing your case as smooth as possible.
We believe that you should talk to an attorney about your case, not a paralegal. We promise that when you call The Advocates about a personal injury or accident claim, you will talk to an attorney. You can call us now at (801) 326-0809 and discuss your case with an attorney, or enter your information in our case evaluation form and an attorney will contact you to discuss your case. We truly care about our clients and want to help everyone get back on their feet.
Our Community
The Advocates are dedicated to giving back to the communities we live and work in. From joining existing charitable organizations in Utah, to starting new events that help bring people together, we are committed to being a strong and positive force in the community. We have an annual charitable motorcycle ride where the proceeds are donated to charities across Utah. We participate in a number of holiday events collecting food and supplies for those in need, particularly at Halloween and Thanksgiving, though we like to help out year-round. We have also started a scholarship for college students in Utah to help with tuition costs. Being a positive influence in the community is a large part of who we are at The Advocates.
Our Story
The story of The Advocates begins in 1993 when founder Matthew Driggs first began practicing law in the Salt Lake City area. At the start of his legal career, Matthew followed in the footsteps of his brother, who was also an attorney, by focusing his practice on personal injury and estate planning. But after seeing the real-world impact of helping vehicle accident victims rebuild their lives, Matthew narrowed his practice to helping personal injury clients.
In the years 1998 and 2000, The Advocates further expanded by hiring attorneys Kenneth Bills and Steven Day as managing partners in a new law firm called Driggs, Bills & Day PC. The firm practiced general litigation with a focus on personal injury and product liability law. They maintained the brand name The Advocates for marketing purposes.
Two years later, the firm began to accept clients who were injured by the weight-loss pharmaceutical Fen-Phen, a major product liability case. Due to an influx of class action clients, The Advocates opened dozens of offices across the western United States, including Portland, Seattle, Spokane, Boise, Billings, Missoula, and Helena. The expansion of these offices allowed The Advocates closer proximity to clients and the ability to continue providing a personal touch.
During the next few years, Matthew and his partners further expanded their practice by accepting clients injured by other defective drugs and medical products such as Vioxx, Yazz/Yasmin, Xarelto, and IVC filters. In total, The Advocates helped compensate their clients to the tune of over $100 million dollars.
Following the successful resolution of their Fen-Phen litigation, The Advocates refocused their practice with the mission of becoming the premier personal injury law firm in Utah and beyond. Matthew and his partners began accepting referrals from other law firms who were unable to help the injury victims who reached out to them for assistance.
Through word of mouth and a track record of professionalism and hard work, The Advocates quickly became one of the most prestigious law firms in the western United States. Over the years, the attorneys with The Advocates have been recognized for their reputation of excellence with numerous awards, including an AV rating from Martindale Hubbell, distinctions from Super Lawyers, and from numerous business magazines. The Advocates' accomplishments were even recognized by Inc. Magazine when the company was featured on its annual list of Fastest-Growing Companies.
Today, The Advocates is renowned for being one of the most prestigious law firms in the United States. Despite the firm's decades of growth and success, recovering over $400 million in compensation, Matthew Driggs is most proud of The Advocates' continued dedication to the core values of professionalism, empathy, and an unwavering commitment to helping injury victims fully recover from their injuries and losses. You deserve an Advocate!
A Message from the Founder
The insurance companies do not want to give you a fair settlement for your injuries and losses and will resist your efforts to recover just compensation. The Advocates will not allow them to mistreat you by paying you less than you deserve. With an Advocate on your side, you can rest assured your case is in the most capable hands. Our attorneys will help you get the medical treatment you need without having to worry about costly medical bills or time away from work. The Advocates are committed to your full recovery.
We know that recovering from a personal injury or accident can be a long, painful, and stressful process. Fighting the insurance companies during this recovery can be emotionally taxing as well. At Driggs Bills & Day, our goal is to help you eliminate the stress you feel so you can focus solely on healing.
With an Advocate on your side, you never have to be bullied, neglected, or ignored by insurance providers who put profit before people. Nor do you need to settle your injury claim for less than your case is worth. You deserve to be treated fairly by a team of injury attorneys you can trust. You deserve the best treatment for your injuries and the knowledge that your life will one day return to what it was before you were injured. What you deserve is an Advocate!