A Self-Driving Car Accident Attorney Can Help Your Case
As fully driverless vehicles become closer to a reality, the subjects of safety and liability have become more and more relevant. If an autonomous vehicle crashes, who is at fault? How do the accident victims recover financially?
Self-driving cars are still in the development stages, but vehicles with some level of autonomy, such as automatic braking and adaptive cruise control, have been on the roads for years.
While human error continues to be the leading cause of car accidents, faulty technology and malfunctions can cause accidents that result in fatalities, serious injuries, and property damage.
If you have been injured in a car wreck involving a self-driving vehicle, the Utah car accident lawyers with The Advocates are here for you. Whether your accident happened in Salt Lake City, St. George, or elsewhere in Utah, our experienced personal injury attorneys will build your case, negotiate with insurance companies, and get you the financial compensation you deserve.
$2.5 Million
Head-on Car Crash
$1.3 Million
Side Impact Auto Accident
$1.0 Million
Side Impact Car Crash
$1.1 Million
Semi-Truck Auto Accident
$1.2 Million
Multiple Vehicle Collision
You will pay nothing out-of-pocket when you hire an Advocate. Your initial consultation with us is always 100% free. There are never any upfront costs or hidden fees. Our attorneys work on a contingency basis, which means that our attorney fees are calculated as a percentage of your settlement. We don't get paid unless we win your case and you receive a settlement. For more information on how settlements and payment work, please see our contingency fee information page.
Not every accident requires an attorney. However, if the accident resulted in injuries or significant property damage, it is a good idea to contact a lawyer. An experienced personal injury attorney can help you navigate the claims process, which can be lengthy and complex. Your attorney will build your case, keep track of your medical records, negotiate with insurance companies, and represent you in court if necessary. Studies have shown that accident victims who hire a personal injury lawyer can receive settlements up to 3.5 times larger than if they settled on their own.
The best way to know if you have a case is to speak with an attorney. The Advocates offer free consultations—you can speak with a qualified legal team to understand what your case is worth without paying a dime. Once you have decided to hire an Advocate, we will investigate your accident to firmly establish liability.
A Team of Car Accident Professionals Assigned to Your Case
For 30 years, the personal injury lawyers with The Advocates have helped victims receive the compensation and care they deserve after their accidents, and we are prepared to do the same for you. We can help you:
Understand the claims process
Investigate your accident
Build your case
Negotiate with insurance providers
Contact us for a free consultation today. We only get paid if we win your case!
Why Do You Need a Car Accident Lawyer?
Studies have shown that hiring an injury attorney can increase the value of your settlement by up to 3.5 times the amount you can get by settling on your own. The Advocates can help you receive compensation for all costs associated with your injury, including:
Medical expenses

Lost

wages, including loss of future earnings

Vehicle repairs

Physical and emotional distress

Funeral expenses (in the case of

wrongful death

)
Self-Driving Car Crash Information
Facts about self-driving cars
There are not yet fully driverless cars that are available to the public. It is estimated that we will not have them until 2035.

When fully autonomous vehicles are available, they could significantly impact rates of

drunk driving

and

distracted driving

.

Self-driving features in cars rely on cameras and sensors that can fail in low-visibility conditions like fog or heavy snow.

Currently, most autonomous vehicles are designed to give control back to the human driver if the car's systems become confused.
Self-driving vehicle accident statistics
Over an 11-month period,

five people were killed

in accidents involving Teslas in autopilot mode.

It is estimated that by 2026,

at least half of all cars

on the road will be equipped with rear cameras, rear parking sensors, or both.

According to the

National Highway Traffic Safety Administration

, human error currently accounts for 94% of car accidents. This could change as cars become more autonomous.

The National Safety Council estimates that driver assistance technologies, like lane keep assist and automatic braking, could prevent nearly 20,000 deaths each year
Common causes of self-driving car accidents
Unpredictable driving: Self-driving cars may be unable to predict a human

motorist

's movements, especially in the case of

reckless driving

behaviors.

Manufacturing defects: If the automatic systems in a car malfunction or fail, the results could be disastrous.

Adverse weather conditions: The sensors on autonomous vehicles may become impaired in heavy rain, snow, or fog.

Distracted driving

: Before cars become fully automated, humans may rely too much on a car's driver assistance features and fail to intervene when the car hands control back to the driver.
Common car accident injuries 
Depending on the nature of your accident, car accident injuries can range from mild to life-threatening. Some common vehicle collision injuries include:
Traumatic

brain injuries

Spinal cord injuries

Internal organ damage

Broken bones

Whiplash

Lacerations and bruising

Scarring and

disfigurement
Self-Driving Vehicle Accident FAQs
What damages can I seek in a personal injury case?
Every accident is different, and so is every insurance claim. Exactly what damages you may be entitled to will depend on the circumstances surrounding your crash.
Some commonly sought damages in car accident cases include:
Medical bills

Lost

wages and loss of future earnings

Pain and suffering

Funeral and burial expenses
The auto accident attorneys with The Advocates can help you understand your options and start the road to recovery. Contact us for a free consultation.
How should I handle a motor vehicle accident in Utah?
A car crash is a stressful event. The most important thing you can do after an accident is remain calm. Then take the following steps to protect your right to a car accident claim:
Stay at the scene.
Move to safety (the shoulder of the roadway or a nearby parking lot, if possible).
Check for injuries and call 911 if necessary.
File a police report.
Get the other driver's insurance and contact information.
Get the names and phone numbers of any witnesses.
Notify your car insurance provider: Personal Injury Protection (PIP) coverage is required under Utah law and will cover at least $3,000 of medical expenses. You may also have Uninsured/Underinsured Motorist coverage, in the event that the responsible party's insurance is not sufficient.
Seek medical care: You may have injuries you are unaware of.

Consider contacting a

Utah car accident attorney

to discuss your

legal options

.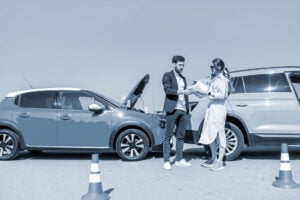 Who is liable for a self-driving car accident?
In a self-driving car accident, there may be several people, companies, or other entities at fault.
If another person's negligence caused your accident, the at-fault driver's insurance policy may cover the damages incurred by the car accident victims. 
On the other hand, if the accident was caused by a malfunction or defect on a self-driving car, then the auto manufacturer may be liable.
A car accident lawyer can help you determine who is liable in your personal injury claim.
How are automated vehicle systems categorized?
The Society of Automotive Engineers defines 6 levels of driving automation. The levels range from no automation to fully automated:
Level 0- Human is fully in control of the vehicle.

Level 1- Some driver assistance features. Vehicle includes driving systems like cruise control or automatic headlights.

Level 2- Partial automation. Vehicle can control steering and speed, but human is still driving and must constantly supervise these features.

Level 3- Conditional automation. Vehicle can perform most driving functions but may ask the human in the driver's seat to take control.

Level 4- High automation. Vehicle performs all driving tasks in limited conditions, such as a local taxi service.

Level 5- Full automation. Vehicle performs all driving tasks and no human attention is needed. Vehicle may drive anywhere in any conditions.
Currently, most cars on the road fall somewhere between 0-2. Some cars with higher levels of automation are being testing in certain cities in the country.
Why Should I Hire a Utah Self-Driving Car Accident Attorney?
When building a personal injury case, there are many factors to keep in mind. You must gather evidence, keep track of medical records, and make sure you do not miss the statute of limitations for your case.
Additionally, insurance companies rarely make it easy for accident victims to obtain fair compensation for their injuries. You may find that they try to fight you at every turn, which can be a stressful and frustrating experience.
Skilled legal representation can make the entire experience go much more smoothly. The car accident lawyers with The Advocates injury law firm will take on the tough parts of the claims process for you, so you can focus on feeling better. 
Your Advocate will be by your side to answer your questions, provide updates on your case, and be your voice in the legal process. We will build your case and negotiate with insurance providers to get you the settlement you deserve.
Contact us today–case evaluations are always free. You deserve an attorney who looks out for you, your loved ones, and your recovery. You deserve an Advocate.