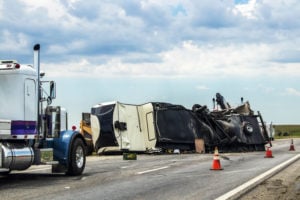 A woman was killed in a semi truck accident late Thursday night just south of Cove Fort. The semi truck was carrying pigs when it crossed the center-line of Interstate 15 and hit the vehicle, a Kia Optima, being driven by the semi truck accident victim.
The semi truck was driving south along I-15 when it suddenly veered across the median into the northbound side of the highway. The semi truck then collided with the Kia Optima shortly before 11:30 p.m. The semi truck pushed the Kia off of the shoulder into a 100-foot drop-off down into a nearby ravine. The driver of the Kia Optima is believed to have died upon impact with the semi truck.
Emergency responders were forced to scale the side of the embankment in order to reach the wrecked Kia Optima. The driver of the semi truck is reported to have been uninjured in the semi truck accident.
Utah Highway Patrol is currently investigating the causes of the semi truck accident. Authorities believe either driver fatigue or illness is to blame for the crash.
I-15 was shuttered for hours as troopers and a rescue team responded to the semi truck accident. In fact, the right lanes of I-15 did not reopen until after 9 a.m. Friday morning.
The identity of the deceased driver has yet to be released by authorities.
If you've been hurt due to the recklessness of another person, you will need an Advocate on your side to help you through the legal aftermath. Our attorneys have decades of experience helping accident victims just like you. We know how to get you just compensation for your injuries and losses. Our staff is available 24 hours a day to answer all of your legal questions about your case. You can either call us at (801) 326-0809 or chat online right now with a live attorney from our homepage. Don't wait to get back on the road to recovery. Contact us today. You deserve an Advocate!